TITLE: The perfect setting for a ghost story…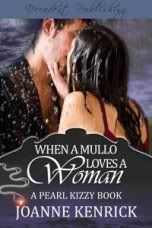 "The shuddering became violent, and sounds of rattling glass bounced off the walls. The French doors burst open, encouraging the white veiled curtains to dance in the ocean wind, and crystal chandeliers to rustle eerily." Snippet - When A Mullo Loves A Woman – JoAnne Kenrick
I have a thing for old, black and white ghost movies, can you tell? I adore how they focus more on building atmosphere, rather than force-feeding you effects and gore. Well, they had to back then, due to lack of said effects. A new ghost movie is released from time to time that, even with the gore, manages to build tension as well as the oldies used to. Say, The Grudge, for instance. But mostly, they don't scare me like the old ones do. I like to be on the edge of my seat wondering what horrors await, or what the unseen creature/ghost looks like.
Watching those older ghost tales, for me, is like cozying up with my favorite book. I adore the language used, the intricate twists and turns, and the settings; almost always a house on a cliff surrounded by an angry ocean. The opening scenes to these movies are poetic and spooky. *shudder*
I'm sure my love for these movies, and their setting, is apparent in my new release 'When A Mullo Loves A Woman' which is set in Monterey Bay, surprise, surprise. What a perfect place to hold a séance -- an empty house on a cliff top with views of an angry ocean. Any haunting scene wouldn't be complete without it, in my opinion. Monterey Bay lends it's self beautifully for that purpose, with its rocky shores and foggy days. Don't get me wrong, my book is no old fashioned spook-tacular. We're talking family secrets and an ancient legend of the undead (Mullo), past lives and yes, it wouldn't do to have a ghostly setting without a haunting, or two. And then there's the romance!
I think my love for the classics began when I saw the 1944 version of The Uninvited. I had already endured a few unexplained experiences when I saw this. It was my first ghost movie, if you like, and the first time I realized this sort of thing existed…for real (hey, as a child, a movie is real. Leave me alone!). It served as confirmation that I wasn't crazy, but I was also scared out of my wits; I remember the sleepless night that followed that viewing. It wasn't nice.
Rebecca is another favorite of mine, again set in a mansion on a cliff top. I can see why the best ghost movies use that setting for a ghost story. There is something so very dangerous, and unsettling, about a beautiful, yet empty, house with beautiful views of the ocean. The ocean is a wild thing; unpredictable and horribly effective in setting up a spooky scene.
"My sight locked onto the bleak, never-ending ocean crashing against the rocky shore. There was something transfixing about the fluidity of the movement and the meeting of elements, water and earth." Snippet -- When A Mullo Loves A Woman – JoAnne Kenrick
JoAnne Kenrick's books on Goodreads

BLURB…She thought the mullo was just a myth…she was dead wrong.
Adam Flint's Gypsy visions always guide him to those who need his paranormal gifts. He gets more than he bargained for in Pearl Kizzy, a beautiful spitfire from Liverpool. Adam knows that to save Pearl, he must help her accept her own Gypsy heritage.
Although Adam and Pearl fight their burning attraction for one another, a night of passion sparks memories of their treacherous former lives. Unable to face the loss of Pearl in this century, Adam scrambles for distance from the love of his life. A rejected Pearl falls into the arms of a Mullo--a gypsy vampire--who lays claim to her heart--and her life.
To survive, Adam and Pearl must accept their tragic past, and find a way to kill the undead.
BUY IT LINK